The 2018 league is nearly upon us, and so begins the speculation about who will win. The 2017 season provided us with plenty of surprises, leaving 2018 with plenty of interesting situations to resolve. Last year, we saw Galway win the league, but Wexford gain promotion. We saw the previous league champions, Clare, fail to reach the knockout stages. We also saw hints at how some of the championship would end up playing out, such as Kilkenny's surprise defeat, Tipperary's inconsistent play, and Cork's strong run in Munster.
With many off-season changes, both amongst players and managers, there is plenty of questions about what 2018 has in store for us, and about which teams will exceed expectations, and which ones will underperform.
Fortunately, this website has a new rating system for teams, and so throughout the season, we'll be tracking this system's predictions of how the league will unfold.
Method
The BAINISTEOIR rating system generates its scores based on teams' actual performances versus their expected performances. These expected performances, in combination with information from the database, can be utilised to give a prediction of which team is expected to win a given match, and how much they're expected to win by. By simulating every league fixture, and running this simulation 10,000, we can get an idea of how far the rating system thinks each team will get. As matches are played, the simulation will be updated, and we'll be able to see how team's odds of winning it all will change.
Initial predictions
At time of writing, the league has yet to start, and so these predictions should probably be taken with a grain of salt. However, we can already get an idea of some of the favourites, as well as some of the influences that the quirks of the league structure can have. Let's take a look at the division 1 predictions:
There are some interesting results in this, so let's go team by team, and try to figure out how the simulation reached some of its conclusions:
Tipperary are considered the most likely to win, narrowly pipping Galway. The simulation also feels it's extremely unlikely that Tipperary will be knocked out before the semi-finals. This doesn't require too much explanation: Despite some shaky performances, Tipperary were only knocked out of the league and championship by eventual winners Galway, and they also won the 2016 championship. Their initial rating is extremely high, they have three home games in the group stages, and by being one of the top performers in 1A, they're unlikely to meet stiff opposition in the quarter final against the 3rd or 4th 1B team.

Galway are just below Tipp in terms of likelihood to win the championship, below them by a fraction of a percentage. They are far and away the strongest team in 1B, and the simulation can't even imagine a single situation out of ten thousand where they don't reach the quarter-finals. Interestingly, the simulation believes that if they do reach the final, they'll almost certainly win it; this is probably due to Galway's unusually high BAINISTEOIR rating in games at neutral venues, a side-effect of their lack of home games in the championship. However, the simulation does feel they could be knocked out in the quarter, since they'll immediately have to face one of the stronger 1A teams, having not really been tested by most of the 1B teams.

Kilkenny are ranked third, though with a significant dip from the top two teams. Though they were shaky last year, years of success mean that Kilkenny can't be ignored. Kilkenny also have one of the strongest ratings when playing at home of any team, and so the three home games will definitely benefit them, and make them much likelier to reach the knockout stages.

Waterford are fourth. This seems low, considering they were runners-up in the 2017 All-Ireland and 2016 league, and they won the league in 2015. However, there are a few factors at play; Waterford have 3 home games, but BAINISTEOIR considers them one of the weakest teams when playing at home. Their rating in neutral venues is also not the strongest, which possibly cuts in to their performance in the knockout stages. However, they are still one of the four teams which, between them, won almost 99% of the 10,000 simulations, and so are not being ruled out.

Clare are the next most likely to win, but there's a massive drop off after the first four teams. Clare are hurt by only having two home games, as BAINISTEOIR gives them the best home rating of any team coming into the 2018 season. However, if they survive the group stage, Clare's odds drop off far less sharply.

Cork's odds look very similar to Clare's. Though both only have two home games, Cork's away rating is much stronger than Clare's, and so they are considered more likely to reach the quarter-finals.Cork are considered more likely struggle in the quarter-finals than Clare, but Cork fans could be optimistic that this is due to the rating system still lagging behind their actual ability, due to their unexpected rise in 2017.

Limerick are given a single league win out of 10,000 simulations. Despite these poor odds, it's not all bad for them; they reach the knockout stages over 99.9% of the time, and have the best odds of reaching the semi-finals and final than any other 1B team except Galway. Limerick still have the potential to surprise, as the senior team continues to draw from their underage success, something not factored in by the BAINISTEOIR rating system.

Dublin are also given a single win out of 10,000 simulations. The simulation seems almost certain of their performance: They will reach the quarter-finals, and get no further, over 95% of the time. Though they've struggled in recent years, a total overhaul of the management, and the return of a few key players, could result in Dublin defying this prediction.

Wexford, and all subsequent teams, are given a ~0% chance by the simulation. Despite their incredible performance last year, gaining promotion and reaching the semi-finals of the league, and reaching the Leinster final in the championship, their rating still lags far behind the rest of 1A. It sees them finishing in the bottom two of 1A in roughly three out of every four simulations. However, in the situations where this doesn't occur, they've performed well enough for their rating to catch up, and so their drop off from here isn't terrible.

Offaly, Laois and Antrim are not expected to reach any further than the quarter-finals. Based on the last few years, this seems realistic, and these teams are most likely to be battling to avoid relegation, more-so than battling to reach the knockout stages. Of these three, Offaly are considered far and away the most likely to get that final quarter final berth, with Laois a fair bit behind, and Antrim lagging considerably, as the newest team in 1B.
Getting promoted
Of course, the league isn't just about the overall champion. For many teams, a mark of success is being promoted to the next division, or avoiding demotion to the one below. Here is how the simulation sees each division changing between 2018 and 2019: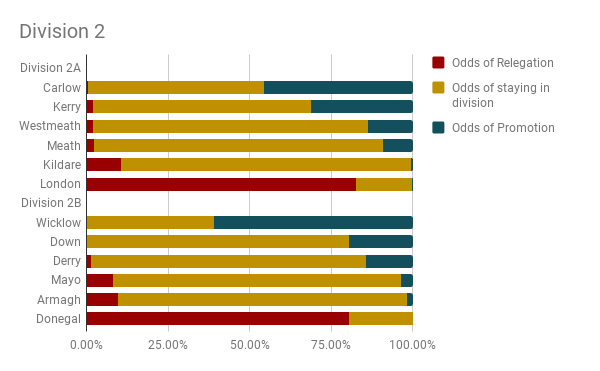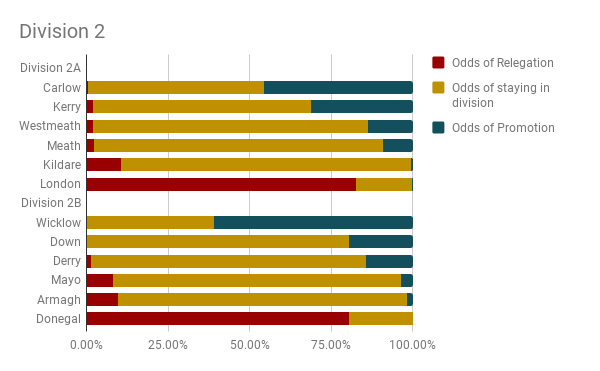 Going division by division, here's a break down of the simulations' predictions:
Division 1A: Wexford, for all their impressive surprises last year, are considered far and away to most likely to be relegated, as their rating still lags behind the other 1A teams. Failing this, however, it seems that either Cork or Clare are next on the chopping block. Interestingly, though their odds to win the league are slightly higher, Clare are still considered more likely than Cork to be relegated.

Division 1B: BAINISTEOIR is almost certain that Galway will be promoted. However, the same could be said of most pundits' opinion last year. Should this promotion fail to materialise, it's going to be between Dublin and Limerick to take the top spot, BAINISTEOIR is also almost certain that it won't be one of these three teams who'll get relegated, with that dishonour going to Antrim, Laois, or possibly Offaly.

Division 2A: This division has been very close in recent years, and each team is given a non-zero chance of both relegation and promotion. Meath, Westmeath and Kildare have improved in recent years, Carlow only narrowly avoided promotion last year, Kerry were in 1B last year and hoping to rebound, and London will be hoping to improve now that they once again have home games on their schedule. Though Carlow are definite favourites, Meath, Westmeath and Kerry are all given strong odds too. The relegation spot seems to be going to London, but nothing is certain, as Kildare also have reasonably strong odds here too.

Division 2B: Wicklow stand out strongly here as most likely to gain promotion, though a resurgence from fellow 2017 Christy Ring semi-finalist Down could still upset them. On the other side of things, Donegal are strong favourites to be demoted.

Division 3A: Similar to 2B, BAINISTEOIR seems quite certain of this division, with strong drop-offs after the most likely team for both promotion and relegation. Roscommon are expected to rebound back up to 2B, while Louth are expected to drop, having only avoided relegation last year due to a shortage of teams following Fingal's withdrawal.

Division 3B: Sligo are expected to be the best of the worst, following an expansion to the lowest tier of the league. They, Fermanagh and Leitrim are the only carry-overs from last year's 3B, and they performed the strongest of these three, beating table-toppers Longford, and losing by only a point to division winners Warwickshire.
Going forward
These predictions will continue to be updated following each weekend of action, and each team's odds of winning will be tracked on the ratings page. This tracking could reveal a surprisingly accurate performance of the BAINISTEOIR system's predictive ability, or it could reveal the futility of trying to predict an unpredictable game. Until then, we can only wait and see which teams defy the odds and which live up to expectation, either for better or worse.